Information and instructions:
Reducio
So, if you have not registered as a member of Enchanted Souls band you must do so first, use the link
here
. Just follow the steps and as soon as you reply to that thread you can put a reply for the audition, as everyone is allowed in the club. No need to wait for me to reply and say you're in, you will automatically be in upon sending a form.
If you have done that then just follow these steps and we will be on our way!
This is in the format of a roleplay thread. That means, stay in character! The only guidelines are to make sure you demonstrate all your musical abilities. If you would like to include an image of your outfit or the painted design of your guitar, etc, feel free to do so! If you have any questions just owl me.
Everyone will be entered into the club, there are no cuts in auditions. It's more for the purpose of roleplaying.
After every audition I will write a small roleplay thread with a review of it.
Even if this post is months old, if you want to join, you can still enter the club. I am always happy to have new members!
Now, without further ado, let the roleplaying commence!
A U D I T I O N S
Rorie ripped off a piece of tape with her teeth and used it to stick a band flyer onto the entry door of the rehearsal room. There were fifteen minutes until the auditions were due to start, and she had yet to put up the posters.
She walked around backstage, taping up information flyers everywhere they were needed. She had organized everything properly, which took a lot of work, but definitely paid off, seeing as the show would run a whole lot smoother with that extra preparation.
Plus, the banner she had made for the new band was stunning.
There were still six minutes before people would start to show, so Rorie sat down in her chair at the table, in front of the stage, and admired her work.
She was proud of herself. Normally the girl would never be so neat, she was normally very messy.
She was wearing an AC/DC band tee and some black denim shorts, her curly hair billowing down her shoulders with a complex braid that her dorm-mate Kit had done for her tying back a few strands. Cracking her neck and back, she checked the time. Four minutes.
Reducio
This is her outfit: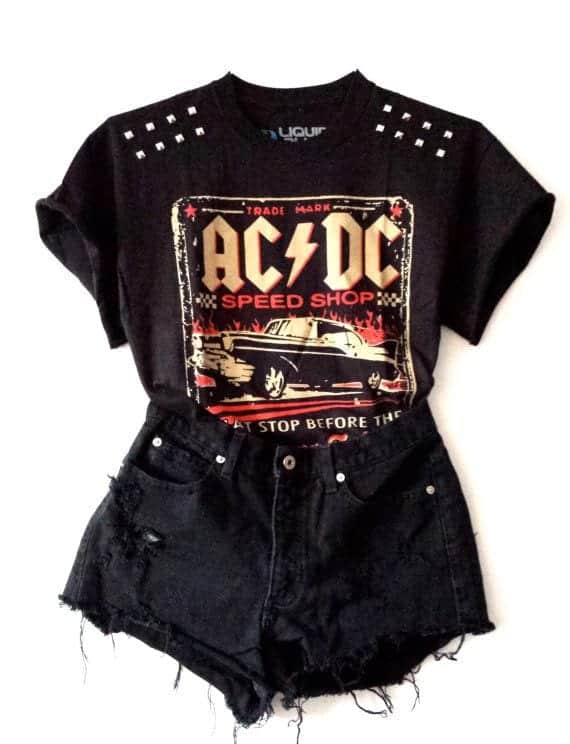 And this is her hair:
just if you needed a visual lol
As she checked the microphones one last time and made sure everything was working, people started to arrive. She warmly smiled at them, waving and saying, "Welcome to Enchanted Souls band auditions! Feel free to go backstage if you are trying out, the show will be starting right away! And if you are here to watch, enjoy the show!"
To admit, Rorie was surprised at the amount of people there both to audition and to watch. There were easily thirty students in the velvet chairs of the audience, which made Rorie smile. It would be an extra test to see if any of the contenders had stage fright. As for the members, there were also quite a few.
She finished checking the technology and brought a microphone down to where she sat in her judging chair.
"Alright, welcome again to Enchanted Souls band auditions. We have quite the show today, many different talents! First up I would just like to say that everybody participating in the auditions today is amazing and great, let's give them a round of applause!"
The audience cheered, making Rorie happy.
"And, without further ado, let's start the show!"
The audience fell silent as the curtains opened and the first auditioner was revealed on the stage.
Last edited by
Rorie Thompson
on 30
th
 September 2018, 1:14 am, edited 3 times in total.