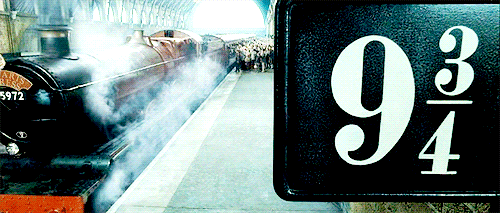 As was customary in the quaint country of England, the rain was dropping from the sky in gentle patters, forming puddles along the concrete pavements while being siphoned off into the drains on the sides of the road. Cyrus sat in the back of his parents vehicle, an audi to be exact, listening to the inane splattering of rain against the windows while he absently mindedly watched the scenery change every second. In fact, he'd even developed his own game where he was imagining an invisible man running along the side of the car, jumping whenever a person was in his way. If he ran into the person, who knew what would happen?
Eventually, the car pulled up beside Kings Cross Station and afforded Cyrus precious minutes to spend with his family.
"Come on, champ. Look alive."
His father called out from behind the steering wheel,
"Let's go get your stuff from the boot."
Cyrus nodded, opening the passenger door, but not before pulling up the hood on his coat, and stepping out into the elements. Swiftly closing the door behind him he moved behind the stationary vehicle which had already been opened by Papa Langley. Out of the goodness of his heart, Cyrus wrenched a briefcase from the boot; father said it was enchanted to be more spacious inside, so it could encompass all of the clothes and amenities he would need during his time at Hogwarts.
For a few seconds, Cyrus simply stood in the rain beside his father, the weight of the briefcase overbearing on his shoulder, though he'd never confess such a thing. It was strange. To know he was going to be away from his family for such a long time. He could still contact them, sure, but it wouldn't be the same to be so far away from the animals. Out of sheer instinct, Cyrus offered his father a firm handshake, just as he had been taught to do, which his father accepted before pulling him into a hug. A useful maneuver Cyrus would remember in the future while he awkwardly wrapped one arm around him.
"Make the most of it, sport."
His father implored, finally releasing his grip and getting back into his vehicle as Cyrus made his way inside of Kings Cross.
Packed. That was the first thing that ran through the mind of Cyrus. How many muggles and half-bloods would he have to push through in order to get to his destination? He had no idea, but alas, he would have to find out. He started his journey with his head held high, though that was mainly to shake the hood off from his dry hair while he pushed through the crowds without so much as a murmur. He felt the briefcase in his hands banging off of a few knees, but that was their fault for being in the way. Watch where your knees are, or lose them. That was the law of the railroad.
After an undisclosed amount of time pushing through people, there was a light at the end of the tunnel. He could finally see the pillar that his father had told to him in great detail that would lead him into the promised land.
"Uhm, excuse me.."
, a timid voice called out from beside Cyrus. Upon further inspection, it was a small girl with a suitcase which had a teddy bound to the handle. Her clothes fit her well, yet it was clear from numerous creases and minor differentiations in the colour that they were well-worn and, in fact, not new at all. Disappointing.
"D-do you know how to get to Platform Nine and Th-three quarters?"
She queried, much to the blank face, yet internally astonished Cyrus. How daring of her to ask in public! Yet, unrelenting courage to ask a stranger such a question was deserving of an answer, and a proper one at that. He nodded with a pleasant smile, gesturing his head towards the side, although he was still surprised on why she had asked him of all people,
"Sure thing. It's that one juuust there. I was about to go through, but I'll let you do it first so I can make sure you're doing it properly!"
Cyrus encouraged, walking sidelong with the girl for a few seconds. The noise of trains, passing crowds and mixtures of language perforated any attempt the girl made at conversation until they arrived at the next pillar. He gestured forward,
"Right behind you! Catch you there."
He said, lurching forward as if he was about to start running. That was enough of an indication from the nervous girl to jolt forward as well, speeding along the platform until she met the resistance of the pillar.
Thud.
Crashing into the pillar, the girl crumpled down into her suitcase with a cry of alarm, disorientated from the collision to ask any questions. Cyrus burst out into laughter while a bunch of muggles swarmed the girl, passing by them so that he could reach the correct pillar. People were so gullible. Holding his breath so that his ears wouldn't pop while he passed into the new platform, he charged straight through the next pillar to enter the revered platform of 9 3/4.
He wasn't the first one here, that much was obvious while he noted a myriad of others hanging around the platform. Perhaps their families had abandoned them here earlier just so they could be out of their hair. That was what adults tended to do with brats, at least. The train, however, appeared to have arrived relatively early. This was most fortunate for the boy, still craning from the strain of the briefcase on his shoulders. Hurriedly, he moved inside of the locomotive and searched for a carriage most fitting of himself. He stumbled across one that was not only spacious but relatively distant from the toilets. He didn't need that smell to wafe in his direction, thanks. Moving inside of the compartment, he closed the door behind himself and went about putting his briefcase beneath him under the seat. Falling backwards onto the lightly cushioned seat, a grin came upon his face. He could get used to this. Soon after, he pulled his legs up onto the adjacent seat, fully reclining and looking out from the glass panels on the door to see who dared disturb him.
Last edited by
Arc Perscivious
on 18
th
October 2019, 4:33 am, edited 1 time in total. Reason:
Inactive for 1 month
---
"Too often in life, we only enjoy something when it becomes a memory."